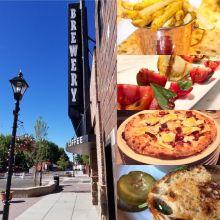 Carson City's biggest event of the year is finally here.
This time of summer is magically lazy. The days are long and hot, and the impending anxiety of school starting that most kids feel (and many adults still carry with them) is still a long way off. It's like we drift through the days until they start blending together. It's kind of wonderful, and it makes it the best time of year for Carson City's greatest evening.
The Taste of Downtown is now in its 24th year. An annual summer fundraiser for Advocates to End Domestic Violence, it has grown to include just about every notable restaurant in the city, and it stretches several blocks throughout the historic district of downtown Carson City. If anyone ever asks me the best way to experience the capital of Nevada, without a doubt my answer is, "Go to the Taste of Downtown!"
With so many new and exciting restaurants, bars and breweries now open in town, this year's Taste, happening Saturday, July 22, may be the most anticipated yet. In fact, it's even a little overwhelming. Well, that's why I'm here, right?
Photos: Taste of Downtown Facebook
I've personally spoken to a handful of the more than 40 locations involved in this year's event to bring you an insider's look at the newest, biggest and most exciting stops along Saturday's Taste of Downtown trail, so dig right in and enjoy!
This doubles as the perfect opportunity to formally introduce two of the downtown area's newest restaurants. First up is The Union, a new farm-to-table restaurant housed in the old High Sierra Brewery building on Carson Street. The restaurant is brought to you by Mark Estee, acclaimed restaurateur known for Reno's Campo. The pastas and wood-fired pizzas are to die for, and in my opinion, set a new culinary standard for this year's Taste.
Stop by the Union for an afternoon pint before the event begins, then look for its stands — not one, not two, but three — serving samples of its fresh, house-made foods and glasses of local Tahoe Mountain Brewing Co.'s Hopsong IPA. For its first Taste of Downtown, The Union also will be serving Reno's own Hub cold-brew coffee. Believe me, you won't want to miss this.
Photo: The Union Facebook
Next up is Battle Born Social, the new bar and small plates restaurant occupying Carson Street's former B'Sghetti's location. Battle Born Social is in the epicenter of Taste of Downtown, making it the perfect stop to relax for a few minutes with one of its specially crafted cocktails. Just as refreshing as taking a break from the afternoon heat, Battle Born Social will be serving its watermelon salad along with the summeriest sample from its cocktail menu: the Berry Drop made with berry-infused vodka.
Right next to Battle Born Social is Carson Cigar Co., a worn-in and familiar place to take a kick back and people watch. Order a whiskey drink, but don't forget to head to the walk-in humidor in the back to collect a free flavored mini cigar as the place's Taste of Downtown feature!
You could argue that one of the most fun aspects of the night is the drinking; I mean, there are beer and wine stands on just about every block! But this year, yet again, we have a hometown brewery gracing the downtown streets in Shoe Tree. If you haven't already been to the brewery itself, use the Taste as your opportunity to skip the Coors Light and finally try one, two or three of Shoe Tree's unique beers!
Photo: Shoe Tree Facebook
Nearby, it might be easy to miss The Lady Tamales' stand, but you'll regret it if you do. As I've written before, this one of Carson City's greatest hidden gems, and it is bringing samples of its out-of-this-world tacos and tamales to downtown for another year. It's so good you'll be heading to the restaurant for lunch on Sunday.
Be sure to head over to Scoups in the McFadden Plaza. The soup and ice cream bar is rolling out samples of its marionberry sorbet and salted caramel ice cream to the rocking sounds of a band on the plaza stage. It's Scoups' first year in the Taste of Downtown. While you're over that way you have a great chance to hit up The Fox, Mom & Pop's Diner and Bella Fiore as well.
As you make your way toward everything the Carson Mall has to offer, be sure to save some room for Red's Old 395 Grill as well. Red's is an award winner in the Taste's contest year after year, making it an essential visit. This year it keeps up the magic by serving generous portions of its classic, crowd-pleasing barbecue. And I mean generous!
Photo: Red's Facebook
There are so, so many more places to go, things to eat and bands to listen to throughout all of the recently remodeled downtown Carson City during this event. But if you start with these, you'll be well on your way to having the greatest time at the biggest event of the year.
For everything else happening this weekend, be sure to check out our Daytime, Nightlife and Community events pages.