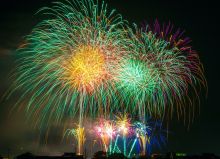 2018 is here.
For much of the past year, we've seen the very best and brightest of Carson City. We've visited the city's burgeoning food culture, where delicious homemade meals can be found in a new, buzzworthy farm-to-table restaurant as well as family-owned tamale shops where word of mouth still reigns supreme.
We've been to just about every bar in town, up from Carson Street's oldest thirst parlors to the city's great new brewing companies. We've biked along the west side's blue line in sun-drenched summer days and spent dark fall evenings among the very same Victorian homes. We dove deep into the city's rich history and found equally rich stories of the past in Virginia City and Carson Valley.
And we celebrated just about every holiday in 2017 the only way locals know how – the Carson City way. It's eating, drinking and living large in our own corner of the world.
So we're here to ring in 2018 the same way, the best way we can. We're looking forward to seeing what great new things wait for us in the coming year – new restaurants, bars, breweries, businesses of all kinds, events and new traditions we can experience year after year. It's such an exciting time to be in Carson City.
Pour yourself a glass of champagne and prepare yourself for a New Year's Eve to remember, and take a look back at all the amazing places and events you visited this past year while you're at it.
For a complete New Year's Eve takeover, head to the Carson Nugget. The festivities begin at 8 p.m. with a prime rib dinner in the Grand Ballroom, followed by line dancing. The party gets started at 9:30 p.m., where live music (supplied by Valentine Rodeo) rocks and rolls into the new year. There are giveaways, a champagne toast and much more to look forward to. To warm your country-loving soul this weekend, New Year's at the Carson Nugget is where you should go. Tickets for the whole event are $59.99.
If country isn't quite your thing, the Carson Nugget has something else for you too. The Carson Comedy Club, a weekly hit among locals looking for the finest touring comedy acts on the West Coast, has a New Year's Eve special going on this weekend. It's three nights – Friday, Saturday and Sunday – with three different headlining acts. For just $30, you can see all three and laugh your way into the new year.
Photo: Facebook
Maybe you're looking for something a little more low key. The Carson City Library is hosting a special New Year's Eve event from 6 to 10 p.m. at the Carson Plaza Event Center. Called an Evening in Paris, it's a French buffet for dinner, a raffle and plenty of music – all to benefit the programs of the Carson City Library. It's sure to be a great crowd, the cause is amazing and you'll get a champagne toast and an excellent time.
Then, of course, there's your own custom New Year's Eve. By now I'm sure you know all the great spots in Carson City. Start at your favorite bar, go see a movie, have an incredible dinner. And the best part? You get to choose the place! There's Shoe Tree Brewing Company, the Union restaurant, Battle Born Social and so much more. Make it a night to remember – but most importantly, your night to remember.
Photo: Facebook
Challenge yourself and see if you can do it all in one jam-packed night. Make it a surprise where exactly you'll ring in the new year. Grab a group of your closest friends and make some memories to last a lifetime. And keep in mind: 2018 will be even better.
For all other events, check out our Daytime, Nightlife and Community pages, and Happy New Year!