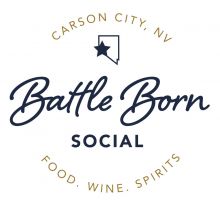 Carson City Restaurant Loves Local
Battle Born Social is a small plates cocktail bar and tasting room with a focus on local ingredients and community support. This Carson City restaurant expands the meaning of dining local to dining social. Get to know what's on the table, while you get acquainted with the people sitting around it.
Sample plates in the restaurant, gather in the sports lounge or kick-back at the bar serving drinks from Reno and Carson City breweries and distilleries.
Dine together. Be together. #BeSocial
Carson City Restaurant Goes Gluten-Free
Battle Born boasts a menu that is 90 percent gluten-free and uses ingredients found in Northern Nevada and nearby. Small plates, big flavor and comfortable prices make this Carson City restaurant a new local favorite. 
Battle Born Best Plates
Try the Battle Born Meatballs, Local Lamb Sliders, Thai Beef Tacos and Basque Deviled Eggs. View the full menu.
Don't wait for a table. Book one now!