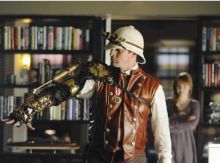 Maybe it's the Old West history, the covered wagon days, saloon shootouts, striking silver or gold in the mines, the great railroads. Maybe it's just the rolling, sandy hills — the miles upon miles of hot desert like something out of a dystopian book or movie. Or, perhaps, the exotic, eclectic character of the people who live here.
Now that the dust has, quite literally, settled from Burning Man in the Black Rock Desert, the world travelers have headed back home to their daily lives while many in Northern Nevada keep the party going, so to speak. Many have made the Burning Man aesthetic their lifestyle, and the businesses in Reno and its surrounding areas have made it their livelihood.
Such an aesthetic has now popularly become known as Steampunk. Sometimes hard to put your finger on it, but you've no doubt seen it in all facets of pop culture. It's in movies like Sherlock Holmes and Wild Wild West. It's in music like the rock band Rush. It's a mashup of Old West art and fashion (monocles, top hats, pocket watches) and Industrial Age science fiction. And, thanks to the ever-evolving style and art of Burning Man, it's huge here in Northern Nevada.
Drop by the 1864 Tavern on California Street in Reno, for example, and you'd be sure you've entered the 1800s by way of H.G. Wells. This saloon, complete with Abraham Lincoln portraits and bearded bartenders, is a popular hangout of the Steampunk-loving crowd. It's not just in the Victorian decor either; order up a Gold Rush (whiskey, honey clover, lemon), and you'll really feel like you're part of the movement, ready to enact a train heist in the late 19th century, even.
Photo: 1864 Tavern Facebook
The only thing missing is the outfit. Steampunk costumes aren't hard to find, especially in Midtown Reno. Just head down the street and around the corner from 1864 Tavern to the Melting Pot World Emporium. The hugely popular counterculture shop has been a staple of Reno's Burning Man culture for years, featuring incense, smoke shop supplies and, of course, costumes. Among these, you'll find classic Steampunk apparel like reflective round sunglasses, leather jackets and vests, Victorian dresses and much more.
Not far is Junkee Clothing Exchange where here, too, you'll find a one-stop-shop for all things Steampunk fashion. Here you can really embrace the look — massive top hats with aviator-style goggles hanging from the brim, or layers of metal-stitched Western coats and vests. Sound a bit out-there? I guarantee you, Steampunk is at home in Reno. Photo: Junkee Facebook
If you venture just east of Carson City to the small community of Moundhouse, you'll stumble upon Deja Vu Again, an independently owned smoke shop and art store that also caters to the Steampunk-inclined. Aside from various artifacts, jewelry and oddities that often accompany Steampunk culture, Deja Vu Again carries costumes, accessories, artwork and plenty of leather and lace to complete the Steampunk look.
Photo: Deja Vu Again Facebook
Now, all this could sound well and good to you, but maybe you're not quite ready to take a dive directly into the Steampunk world or sign yourself up for next year's Playa excursion. In any case, you'll start to notice just how popular and prevalent the culture can be in Northern Nevada. There's the Western spirit of Red's Old 395 Grill, complete with wagons and vehicles strung from the ceiling. Or the many antique shops of Carson City and Carson Valley, brimming with western art and railroad memorabilia. Even Carson City's Railroad Museum brings some history and levity to the splashy artistic movement. It's exciting to see just how much the area embraces all aspects of its eclectic character and history. And, hey, the more you notice it, the more inclined you might be to just try on a gold-plated vest someday.
 
For this weekend's events, check out our Daytime, Nightlife and Community pages.