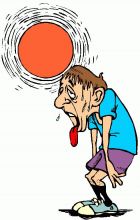 It feels like just yesterday I was writing, in the midst of a chilly spring, that the hot sunny days and warm summer nights were just around the corner. I, like many others in Northern Nevada, was ready for the winter weather to stop dragging on so I could finally go on outdoor hikes, bike rides and picnics in the park.
Well, everyone, springtime came and went pretty quickly, and as you know we are now in the middle of an upper-90-degree heat wave with no end in sight. There are certainly people out there willing to brave the sun at the hottest times of day to enjoy (with tons of water, I hope) those outdoor activities, but I am not one of them!
Escaping the heat, however, doesn't have to mean hiding away in your home. I've sought out a few things to do and see in the area that are decidedly cool. It's Carson City, after all, and there are so many ways to enjoy this hot summer weather — without, well, being in the hot summer weather — and still have the time of your life!
Go Swimming
I'll start with the obvious. There might not be a better way to cool off this weekend than to dive right into a cool blue swimming pool. It's the perfect antidote to triple-digit temperatures. Don't have a pool in your backyard? No problem— just head past Mills Park to the Carson Aquatic Facility, home to an Olympic-sized indoor lap pool and a 25-yard outdoor pool. Take a dip and you can enjoy being outside under the sun without burning up.
Just a few miles south in Minden is the Carson Valley Swim Center. The CVSC is huge, with indoor and outdoor pools, diving boards and even a water slide. You get all the fun away from the heat and still get to enjoy the beautiful view of the Sierra Nevada Mountains in the distance — what more could you want? Photo at left: Carson Valley Swim Center Facebook
Or you can head up high into the mountains to Sand Harbor or one of Lake Tahoe's other beaches. The weather is a few degrees cooler, but you'll still love wading into the ice cold, stunning lake. Trust me, you'll feel a million miles away from sweltering heat. Photo at right: Sand Harbor State Park Facebook
Go to the Movies
This summer has no shortage of blockbuster movies — there's at least one opening every weekend. How about a nice, cool, air-conditioned place to spend time away from the sun in the middle of the afternoon? Head to the Galaxy Theaters at Casino Fandango. That neon beacon on the hill has 10 HD and 3-D equipped screens, motion-activated D-Box seats and luxury services like reclining theater seats and pull-out trays. This theater sells a variety of beers on tap and wines by the glass as well, really elevating the movie-going experience. Photo: MovieTimes.com
For a more intimate film-watching experience, there's Carson City's own Classic Cinema Club. On the first Tuesday of every month (Wednesday for July), the club meets at Brewery Arts Center for a screening of a classic movie — this month it's Three Came Home starring Claudette Colbert. The movie starts at 7 p.m., but get there a half hour early for some trivia and discussion. It's the perfect opportunity to unwind after a hot day and meet some of Carson City's other film-loving citizens. Tickets cost $5.
Head Downtown
In the summertime everyone wants to head outside and enjoy each other's company — even on the most scorching days — and you want to join in! Head on down to Downtown Carson City to the revamped — and shady — Bob McFadden Plaza. It's an excellent, family-friendly gathering place with so many amenities that make this heat wave feel like a breeze.
I recommend starting out with brunch at Mom & Pop's Diner — there are cushioned seats under tropical umbrellas making for a perfect spot to enjoy a BLT or omelet (don't worry — I don't think the eggs are actually fried on the pavement). Across the way is The Fox's patio, where any number of cold High Sierra Brewery beers will cool you down (or perhaps make you not worry much about the heat).
Past the plaza's run-through water fountains is Scoups, the new soup-and-ice-cream hybrid café. If you ask me, soup is great in all weather, but you might be here for a cold cone of fresh ice cream. Photo below: Scoups Facebook 
The plaza's stage is usually host to a rocking live band playing classic hits on any given Friday evening, but if you want to cool down away from the crowd, sit on the outdoor patio of Bella Fiore just across from the stage. You'll still get a great view, but you'll be able to sit back near the air-conditioned wine bar with a glass of pinot noir or a cocktail on the rocks.  
As a hub of weekend activity, the Bob McFadden Plaza has everything you'd want for a relaxing day in the sun, yet still out of the heat. And as you can see, it's just the tip of the iceberg when it comes to cooling off in a Carson City summer.
For more events this weekend, check out our Daytime, Nightlife and Community pages.