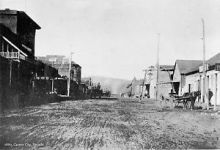 The month of October seemed to fly by in a blur. Halloween snuck up on Carson City, and now, all of a sudden, residents will be trading jack-o-lanterns and spider webs for fall decorations. Before we know it, a blanket of snow will cover the valley, and the streets will be lit by colorful holiday lights.
As 2017's end fast approaches, I'll still be missing the surreal, ethereal wonder of October in Carson City. So, in an extension of our previous ghost tour, I'm here to remind you that history – particularly haunted history – is a year-round celebration in Nevada's capital.
Using this handy guide, embrace the weekend's incoming chill and visit these supposedly haunted, historic and beautiful locations.
The building that once housed a U.S. mint towers over Carson St. downtown. The stone walls and arched windows make it look like a fortress. Now, the Nevada State Museum stands as an iconic structure. Inside is full of history you can see for yourself – machinery and coins from the mint, actual pieces of Nevada's early Native American history, fossils from the state's prehistory and original objects from Carson City's first days of settlement.
A walk through the museum can be mind-blowing, seeing history alive in the very same spot much of the history occurred. As it turns out, the combination makes for some notable otherworldly visitors.
It is said that in the 19th-century heyday of the mint, worker Osborne Parker was killed in a freak accident in the basement. And one of Carson City's founding fathers, Abraham Curry, acted as superintendent of the mint until just before his death. Now there are reports of footsteps and equipment operating on its own, as well as a supernatural presence felt by current-day staff members.
They claim that Osborne Parker is still hard at work all these years later, and Abraham Curry still keeps a strong, watchful eye over the operations (fittingly in line with his restless, hardworking attitude in life).
Photo: Nevada State Museum Facebook
Just blocks away in the West Side District is the Thomas J. Edwards House. The late-1900s sandstone house was built for Edwards, the sheriff and county clerk, but it was infamously built by Nevada State Prison inmates for almost no pay. This scandal has now given way to reported hauntings in the Victorian home.
Allegedly, the Edwards family housekeeper still roams the halls, cleaning and moving items and furniture. Or, this occurrences could be caused by Edwards' wife, Viola, still living in and tending to her home. If you do happen to visit one of the offices that currently call the Edwards house their home, don't worry – these spirits are known to be friendly and even helpful!
Last we'll journey to one of the most iconic buildings in town, the Governor's Mansion. In case you missed its plethora of Halloween decorations up through October, the mansion still has plenty of spookiness to offer. The massive Classical Revival building has seen many residents over the course of a century, and some may never have left.
 
Employees and past residents of the mansion often get a strange feeling around the building's antique grandfather clock. Nearby, a breeze sometimes floats through the parlor, and doors seem to open and close by themselves. Guests visiting the second floor overnight claim to have seen a woman wearing a white dress as well as a young girl appearing to float through the halls. A trick of the eye, or the family of a former governor, perhaps? Whatever these may be, thankfully none seem to interfere with the mansion's operations.
Photo: Tiger Helgelien Group Facebook
Next time you feel a need to ghost hunt, or just want to dive into the history of Carson City's deep (and sometimes creepy) past, visit one of these downtown locations and keep an open mind. There's plenty more to see than what meets the eye, and no matter what, exploring the incredible capital is always an adventure.
For more weekend events, visit our Daytime, Nightlife and Community pages.