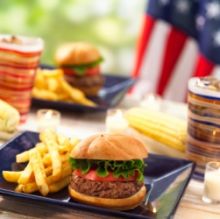 There is no American town quite like Carson City. Like I've mentioned in the past, this city has that nostalgic, stroll-down-Main-Street charm we often associate with the all-American hometown. But it just so happens to be the state capital as well, a place with a vivid history dating back to the Old West, a part of the world rich in Native American culture and just over the snow-capped Sierra Nevada Mountains from one of the country's most popular vacation destinations, Lake Tahoe.
So you could argue that Carson City is the perfect slice of American life. That might be why the area pulls out every stop in celebrating the country's independence. In my opinion there's no greater way to experience the holiday than by watching fireworks explode over Lake Tahoe, lighting up the mountains and reflecting on the water. Or, perhaps, sitting in the back of a pickup truck in the Carson High School parking lot, watching the fireworks shoot off from the top of the Ormsby House.
So many of my early childhood memories of summer involve these Fourth of July traditions, such as making s'mores around a campfire, going for a refreshing swim in the lake, maybe watching Jaws. And then there's the food.
Over the years and while growing up here, I've accumulated a list of the best under-the-radar restaurants, burger stands and beverage spots from the recommendations of other locals and from my own experiences, and no one has ever left out the most important food recommendation of all: where to find the best burger.
The cheeseburger is one thing people think of when they think of American dining. It's simply a classic, and there are so many ways to pull it off. So here I've put some of the highlights — places you might otherwise drive past. All are distinctly American, and all are located right where the Independence Day party is happening, between Carson City and Lake Tahoe. So as you spend this Fourth of July weekend with your family creating some traditions of your own, use this guide to get started on arguably the most important stops you'll make.
Certainly the first place you'll need to check out is the appropriately titled The Union, brand new in Carson City. The menu is filled with so many farm-to-table delicacies, but this weekend you're here for the Carson Burger. The Bentley beef is topped with gooey smoked cheddar, crispy onions and bacon, all lathered in BBQ sauce on a brioche bun. This is the high-end burger of your dreams, and you'll have to wash it down with a local beer like 21st Amendment's Hell or High Watermelon. You'll never feel more summery and patriotic at the same time! Photo at left: Open Table
But how about sending yourself back in time to 1950s small-town America by heading to Red Hut Cafe (with locations in Carson City, Reno and Lake Tahoe)? It's a diner through and through, complete with ice cream and an old-fashioned soda fountain. A favorite is the Tahoe Bleu Burger, topped with bacon and bleu cheese. Or, if you're a little riskier, try the Peanut Butter Burger. That's right, a burger covered in peanut butter and cheddar cheese. I'll pass on that one, but I hear just one bite will make you fall in love. Photo at right: As Her World Turns
I've talked before about Carson City's ill-fated Penguin Drive-In and it's famous treats, and sadly our town now lacks a proper drive-in-style eatery. Not to worry, though, because not far is the Sno-Flake Drive-In in South Lake Tahoe.
Summers at Lake Tahoe, in my mind, are even better than its world-famous winters, and this is the reason. After a day of swimming and sun at Nevada Beach or Sand Harbor, perfection is a grilled cheeseburger or hot dog, hot fries and a shake from a classic drive-in as the sun is setting on the lake. The Sno-Flake will deliver that to you and more!
On the north side of the lake is King's Beach's Char-Pit. Here's a wooden cabin-like burger shack you might miss while driving through the lakeside town, but it has one of Tahoe's greatest, smokiest hamburgers. The place is pretty straight-forward — you won't find a crazy menu here — but you'll get one of the most unforgettable meals in the area. There's a reason the Char-Pit has stood the test of time as one of Tahoe's best hidden gems. Plus, you're just a quick walk to the beach, so take that burger to go! Photo at left: Pinterest
Last is Reno and Truckee's Burger Me!, perhaps my own personal favorite twist on the all-American food I've had in the area. It's a fast-casual restaurant with an endlessly customizable burger. The beef itself is all natural, and I can't get enough of that hearty taste. I also suggest trying the heavy BBQ Bison Burger at least once (jalapenos on a burger is always a win) and a healthy order of Burger Me!'s homestyle fries.
Truly, there are so many more notable burger stops in Northern Nevada, but this will get you started on the newest, the most iconic and, of course, the most delicious you can find nearby. At the very least, it'll get you looking for the little shacks and unexceptional signs hiding some of this corner of America's best-kept foodie secrets.
Be sure to check out the weekend and the Fourth of July events on our Daytime, Nightlife and Community pages, and have an excellent and safe Fourth of July holiday!