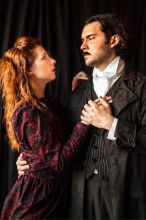 There's a cool breeze slowly blowing its way through Northern Nevada, and it can only mean one thing: Fall is upon us. It seems like just yesterday I was hoping for the late winter clouds to part and make way for the long overdue warm weather. And while I'm sure there are plenty of sunny days left in the year, it feels like summer is on its way out.
Thankfully, that means it's time for what I believe to be our area's most beautiful season. And consciously or not, Carson City and the surrounding area seems like they're taking this coming weekend to kick fall off right! Before we say goodbye to backyard barbecues and hello to the spooky fun of Halloween season, let's celebrate this transition time with one of the things Carson City does best: entertainment!
That's right — cold weather doesn't automatically call for blankets and a night in. Take the following suggestions for date night, family outing or night on the town with friends and have some fun at a show this weekend!
This Friday marks the beginning of the Proscenium Players, Inc. production of Nightfall with Edgar Allan Poe at the Brewery Arts Center. "Nightfall" is a play that strings together four of the Master of the Macabre's stories: "The Raven," "The Fall of the House of Usher," "The Pit and the Pendulum" and my personal favorite, "The Tell-Tale Heart." Speaking of hearts, this thing's not for the faint. "Nightfall" brings the Victorian darkness of Poe's work to startling life. This is a show you won't soon forget. "Nightfall" is only playing this weekend and next, so be sure to make your way out for it. If you ask me, a little Poe is the best way to start October. The opening is this Friday ,September 22, at 7 p.m., and tickets are $18 general admission.
Photo: Edgar Allan Poe Facebook
Let's balance out some of the bleakness with a little singalong fun. At Pipers Opera House in Virginia City this Friday, September 22, Beatles Flashback is taking the stage. This year's the 50th anniversary of one of the greatest albums of all time, the Fab Four's "Sgt. Pepper's Lonely Hearts Club Band," and this local tribute band is celebrating by scorching through the landmark album and some other Beatles hits. Plus there's the fact that the band is playing a gorgeous venue that's nearly three times as old as that album. Tickets are $20, and the show starts at 7 p.m.
Photo: Beatles Flashback Facebook
Don't count the McFadden Plaza out for the summer yet either. This Saturday, September 23, is the fourth annual live music benefit for Alzheimer's research, and it's happening from 4 to 9 p.m. at the plaza. If you haven't had a chance to check out the many outdoor concerts here all summer long, this might be your last chance to see some of the amazing local talent rocking the McFadden stage — and it's all for a great cause. Acts include Makayla Taylor, Canyon White, Harmony Pines and more. Come have a drink and hang out with the best of the best of local musicians; it's a perfect cap to Carson City's summer concert series.
Photo: Canyon White Facebook
In Reno this Friday, September 22, you're invited to the touring Wild & Scenic Film Festival making its stop at the Robert Z. Hawkins Amphitheater. The outdoor event, starting at 5 p.m., will show multiple films all centered on nature and activism. There's also a food truck on site, drinks, live music and much fun to be had. It's inspiring, it's exciting and it might just leave you wanting to go out and making something of your own. Tickets are $15.
So before the leaves start changing and that breeze gets colder, take advantage of the last few days of September for some classic out-on-the-town entertainment. As always in Northern Nevada, there's something for everyone to enjoy.
Also, be sure to check out our Daytime, Nightlife and Community events pages for more!