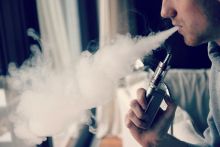 Carson City is up in smoke these days. Or vapor, rather, which has taken not only the town but the rest of the country by storm.
Those attempting to curb smoking have joined many others in embracing the vaporizer movement, and the business is booming in Carson City. But for those skeptical of the whole thing, or those interested in the super popular activity, you may ask, where do I start? Here, now, I have your guide.
For the uninitiated, a vaporizer is a handheld device that extracts the vapor from any sort of plant, most commonly nicotine-free tobacco or even cannabis. The "juices" used to fill these devices are often flavored with anything from apple pie to peppermint to cold brew coffee. Seriously – if you can think of a flavor, there's probably a juice out there.
For vaping in Carson City, you have options.
North Carson Street's Carson Vape and Hookah is a perfect place to start. Not only do they have an enviable selection, but the customer service is a huge factor. Any questions you might have – whether this is your first foray into the product or you're just looking to upgrade – will be answered in the friendliest possible way. And in case you didn't believe me about the juice flavors, see for yourself here. There are dozens and dozens of varieties. Just ask for something fruity, something sweet or something spicy, perhaps, and the staff will do the rest.
Butts Out Vapor Too on Highway 50 is another close-knit, locally operated vapor store with everything you need and the service to help. The philosophy here is to drive all smokers to vaporizers instead, making the process as smooth and seamless as possible. It's Carson City's only vapor bar, a place you can actually sit down, hang out for awhile and try the various flavors before you buy. Plus, Butts Out offers an exclusive and extensive collection of cannabis supplies. You may need to head to Reno to take advantage of the actual recreational marijuana at the dispensaries, but Butts Out has everything else covered.
Photo: Butts Out Facebook
In a great spot right on Carson Street downtown, there's Nevada Vapor Supply. Here is another huge inventory of juices and liquids plus the range of vaporizers at every price point. If you're looking for something ultra high-tech, Nevada Vapor Supply has it, as well as the convenient and inexpensive options for those not quite committed yet. Here, as with the other locations, the staff is completely open for questions and dedicated to helping you find the best option, customized to your needs. There are simply so many options when it comes to vaporizers that this service might as well be a signature of the local vape-retailer industry.
Each of these locations has something unique to offer, so why not visit all three to get the best ideas? Though if you're just looking for a relaxed kind of smoking lounge, here's what I recommend.
Of course, you always have a friendly and popular bar in downtown's Jimmy G's, where you can order a glass of whiskey and purchase a fresh cigar from the humidor, ready to smoke inside or outside at the bar's historic patio area. Or just across the street, there's the Carson Cigar Company with a walk-in humidor full of cigar options in this old-fashioned saloon.
Just down the street there's the Caterpillar Hookah Lounge next to Comma Coffee. The bar lets you sit back with a hookah, a bunch of flavors to choose from and even live music on occasion.
It's not often featured, but vaporizers are becoming a much bigger part of Carson City's shopping scene. It's not hard to find a shop, but it can certainly be overwhelming to actually start shopping. And not to worry if it's not for you – Carson City still has a cigar to enjoy or a hookah to relax with, plus dozens of nonsmoking bars as well. Just as I like to say, this town is plenty versatile when it comes to a night out.
For weekend events and more visit our Daytime, Nightlife and Community pages.