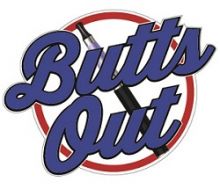 Carson City Vapor Lounge Feels Like Family
Butts Out Vapor Too is dedicated to getting smokers off of cigarettes through vaporizing. While the store is small, a family of loyal customers who take advantage of its vapor bar make it perfect for all of your vaping needs. 
Carson City Vapor Lounge Has Variety
As Carson City's only vapor bar, Butts Out Vapor specializes in genuine e-cigarette starter kits, batteries, mechanical mods as well as a wide variety of premium e-liquids. With great prices, good customer service, and a friendly environment, Butts Out Vapor is Carson City's number one destination for vapor supplies. 
Cannabis Supplies at Carson City Vapor Lounge
Looking for a clean, new vape to replace that dirty old glass bowl? Butts Out Vapor Too has got you covered. After a trip to your neighborhood Carson City Vapor Lounge, worrying about dropping and shattering your bowl will be a thing of the past. This Carson City Vapor Lounge sells a selection of top of the line cannabis vaporizers in addition to their rad collection of nicotine vapes.