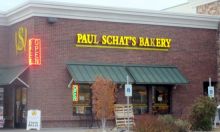 I remember the old Carson Mall. The one-story shopping center was a huge part of my life growing up. I remember the Christmas shopping frenzy at Gottschalks department store, visiting Santa in the midst of a holiday pop-up extravaganza, the weekly trips to Joann Fabric & Craft store with my aunt. My mom used to go to a nail salon at one end of the mall every other week. I was once part of a high school band concert in the mall's wide open lobby.
Over the decades, Carson Mall has been through so many changes. There were long, lonely periods of gutted stores and empty halls. There were moments of short-lived restaurant revivals and reignited excitement. Rumors of fantastic-sounding stores and hangouts that never got off the ground. Then more periods of quiet.
The years hadn't been kind to Carson Mall, home of Carson City's largest urgent care facility and sole Boot Barn, weekend craft fairs and summer outdoor concerts. But then, just a few years ago, those empty storefronts started filling in with incredible independent businesses, locally owned restaurants and main attractions. And now I'm happy to report that the Carson Mall revival is fully realized.
Now it's a collection of the most eclectic and fun shops, food stops and services in town. In the past few years, crowds have flocked to Paul Schat's Bakery every day for an array of fresh-baked breads and pastries, handmade deli sandwiches and delicious specialty soups in a Dutch-style bakery setting. The popularity allowed Schat's to expand with a bright and colorful cake shop full of sweet treats and handmade truffles.
For your morning espresso, you'll want to check out one of Carson City's long-favored drive-through coffee stops, Dutch Bros. Up until just recently, the West Coast chain's sole Northern Nevada location was right here in the parking lot of the Carson Mall. Dutch Bros. serves up sweet espresso beverages, energy drink-infused sodas and so much more.
As for gifts, the Carson Mall makes for a one-stop shop. For the metaphysical needs, there's locally owned Crimson Moon Intuitive Arts, a store packed with home decor, collectibles and gifts that seem to take on an otherworldly life of their own. There's also Bellissimo, a store for exquisite gifts like home goods, fashion accessories and, of course, jewelry, as the only Brighton jeweler in Carson City. Then there's the gift of original artwork at Wild Horse Gallery, filled with stunning oil paintings of Western life.
One of the most exciting aspects of Carson Mall is Carson City's newest restaurant, Bella Vita Bistro.
Bella Vita is a family-owned, European-style deli and caterer just across from Schat's. There's nothing else like it in town, from its house-made quiches and crab cakes to its signature Chicken Chardonnay dish and vegetarian-friendly pastas. You can grab a quick sandwich or salad with soup to go at lunch, or have Bella Vita cater your next family party or event. Like its name suggests, this place is breathing even more life into the Carson Mall.
Other shopping options in Carson Mall: For camping or sporting goods there's Sportsman's Warehouse, for a new wardrobe there's Bealls department store, for crafting supplies you'll find The Bead Store and Joann. And there's much, much more. Make a trip this weekend and see what you might discover.
For all the events this week, be sure to visit our Daytime, Nightlife and Community pages.