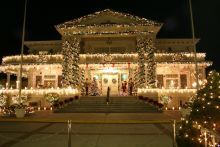 It's cold!
Carson City in the middle of December is a chilly place to be. In what's been a relatively snowless winter (so far!), you still need to bundle up before going outside into the frozen air.
This is normal, sure. But the problem is that the city is so beautifully decorated for the holiday season, with light displays all along the main stretch of Carson Street, along the buildings downtown and especially all over the houses and yards of the town's residential neighborhoods. It's a perfect date or evening activity to be able to take a drive or a walk and see the bright, festive colors currently making the city glow at night – if it wasn't so cold!
So here I've made a list of the best and warmest cups of hot cocoa you'll find in Carson City as you take a Christmas light tour of the town. It'll add a warm and delicious touch to your cold December night, and hopefully make the chill tolerable and much, much sweeter.
The stretch of Carson Street near the Capitol Building is lined with glowing streetlamps all covered with wreaths and twinkling lights. Then there's the Capitol Building itself, bursting with holiday decor. The trees on the grounds are wrapped in red, green and blue lights, making for a winter wonderland of sorts if you decide to walk through at night.
First, however, park across the street and pick up a hot cup of cocoa at Comma Coffee. The local favorite shop be a great chance to warm up before walking the Capitol Grounds, so relax for a few minutes and catch some of whatever live acoustic performance may be happening, then grab your cup to go as you witness the spectacular light arrangements at the Capitol.
If getting out of the car and walking around isn't quite your thing, you should still sip a cup of hot chocolate as you cruise. Stop first at Dutch Bros., where you won't even have to leave your car. Drive through and order one rich, chocolatey hot cocoa (or perhaps a decaf version of one of Dutch Bros. classic coffee drinks) and take a slow drive down Carson Street to view the Christmas lights from the warmth of your own car. Plus Dutch Bros. now has a new location on William Street.
On the west side of Carson City, the Governor's Mansion has an astounding and bright display of lights and decor rivaling its outrageous Halloween display. The building is beautiful this time of year, covered in twinkling blues and yellows that make it look like the centerpiece of a snowglobe. With the additional lighting and decorations featured on the Victorian homes in the surrounding area, this is a must-stop on your evening Christmas light tour.
Not far is the newly opened Hub Coffee Bar located in the back of the Union restaurant. That's right – one of Reno's favorite cups of coffee is now available in Downtown Carson City. You'll want to walk in and check out the new spot, then order a hot coffee drink or, of course, a deliciously rich and sweet cup of hot chocolate. Trust me – this might be your new go-to coffee spot in town.
The neighborhoods surrounding Sonoma Park and Saliman Street are always worth cruising at night this time of year. The residents go all out when it comes to Christmas decor, prompting plenty of healthy competition. The streets wind around, with almost every home covered in some amount of holiday lights plus some absolutely over-the-top displays.
As you drive around looking at some of these homes, make a quick trip to the Carson Mall (not too far away) to Paul Schat's Bakery. If you come by early enough, pick up a pastry and order a sweet, home-style cup of cocoa. Or, while the sun's still up, drop in and warm up with a bowl of homemade soup for lunch.
Take an evening this weekend and explore Carson City in a new, bright, festive light – and visit some of the best coffee shops the city has to offer.
For more events this weekend, visit our Daytime, Nightlife and Community pages.