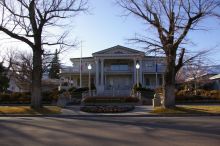 Even though spring is right around the corner, Carson City has (finally) been in the throes of cold winter weather for the past week. Sure, it's a welcome change from the past few months of mild, even warm days and sunny skies. But this weekend our clocks jump ahead an hour, and the days are getting longer.
Usually these chilly months are sort of a hibernation for Carson City events; the big events are saved for warmer evenings, and I like to think of these winter weekends as a time to explore the city's culture on your own terms. But this weekend is a change – there are big fundraisers, parties, live music and more to give you a taste of springtime while Northern Nevada's infamous winter weather holds on for life.
Set the time for a few of these great happenings this weekend.
First up is the annual Let's Wine Together fundraiser for the Carson High School Band. On Friday, March 9, at the Governor's Mansion you have the chance to join others in enjoying wine and appetizers for the great cause of helping upgrade the high school band's equipment and storage areas. And the best part? The band itself is there providing the entertainment for the evening. Take this great opportunity to see these talented students in action, auction on some incredible gift sets and prizes and have a high-class evening at the Governor's Mansion. Tickets are $25.
On that same note and on the same night, Relay for Life kicks off at Casino Fandango. The largest fundraiser for cancer invites you to a luau party at 6 p.m. on March 9. Have a drink or two, eat some delicious food, join in on the raffle for so many different prizes and learn all about the Relay for Life's mission and efforts in Northern Nevada with a guest speaker. Then, inspired to help out, you'll have the chance to sign up your team.
Do you miss the constant live local music that plays around town all summer long? On Saturday, March 10, head straight to Carson Max for some food, gaming and fantastic live music provided by Lady and the Tramps, a local band with roots in country and classic rock (featuring a baritone saxophone player as well). Let loose and dance the night away from 8 p.m. to midnight.
With all of these evening events, you might want to take it easy on Sunday, so here's just the thing for you. Genoa's own Sierra Chef has an afternoon class this Sunday, March 11, called Taste of Tuscany. For $75 you'll learn how to craft an incredible meal of Panzanella Salad, Chicken Marsala and Cannelloni from some of the best chefs in Northern Nevada. No cooking experience required, as the class takes a step-by-step approach. Then take this knowledge home with you and wow your friends and family with a delectable Italian dinner.
Well, this weekend is booked, and hopefully it'll get you back in the swing of fun, busy, arts-and-culture-packed weekends. In the meantime, enjoy this great winter weather while it lasts – spring and summer will be here before you know it!
For all other events this weekend, visit our Daytime, Nightlife and Community pages.