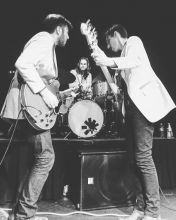 These long, lazy days of late summer just keep rolling along. Luckily, there's plenty to keep us entertained in Carson City.

As Reno kicks off perhaps its most defining citywide event, the all-inclusive classic car show Hot August Nights, Carson City can feel a bit, well, lonelier on the August weekends. Plenty of classic vehicles roll through town for us to stare at in awe, sometimes stopping off at a small satellite car show in Mills Park. And, by all means, you should take a day and head to Reno to admire some of the cars that come from all around the country for Hot August Nights.
But as it turns out this weekend in Carson City is full of things to do and experience. In fact, you shouldn't be surprised to see plenty of out-of-towners coming to this neck of the woods to get away from the car shows for a Friday or Saturday night. All around town there's something for everyone. It's tempting to stay home all weekend, sunbathe by a pool or relax in a hammock (I don't own a hammock, but perhaps you do) and sip a glass of iced tea. But instead, let's take advantage of these so-called dog days of summer and make some memories out on the town!
Put on your dancing shoes and your drinking hats and get ready to go out Friday night (August 4). Miss the '80s? Cut loose — footloose — over at Carson Lanes' Eleventh Frame Winners Lounge for the Back to the '80s Karaoke Party. That's right — after a couple of $2 kamikaze shots or $4 rum punches even you could be ready to hit the high notes of "Thriller" or belt out "Livin' On A Prayer." Or just hop on the dancefloor and experience (or re-experience) the decade of wild hairdos and acid-wash jeans. Everyone who sings will get entered into a raffle for a free drink every hour, and there'll be plenty of '80s-inspired accessories provided. Plus, you can order food from any of Carson Lanes' restaurants; try a burger from '50s-style diner Johnny Rockets and you'll really feel like you're in Back to the Future!
Photo: Facebook, Eleventh Frame
Assuming you're not too partied-out, Saturday, August 5, is Downtown Carson's August Wine Walk. Perhaps a little hair of the dog is just what the doctor ordered, so come downtown and sip some wine at many of the historic district's shops and restaurants. And this month is special: Local author Cindy Southerland will be signing her new book at Morley's Book Shop, and the Carson City Cottage Festival will be happening across Carson Street from the Nugget.
The inaugural Cottage Festival (from 11 a.m. to 5 p.m.) offers a bunch of local vendors, from craftspeople to artists to jewelers, making for an eclectic sample of Northern Nevada's creative spirit. Along with wine walk tastings, the Cottage Festival will serve food. It's kid-friendly as well, with a bounce house and face painting booth on site, and live music too.
Photo: Facebook, Bella Fiore
Looking for a little drama and mystery to add to your weekend? The Governor's Mansion is hosting Murder at the Mine or Who Got the Shaft, a dinner-and-a-show-style event that's sure to be a blast. For $35 you'll get dinner supplied by A Catered Affair and a memorable evening of intrigue as you try to be the first to uncover the "murderer" in this Nevada history-themed evening. There's also a bar, a raffle and all kinds of other prizes. Tickets are available in advance from the Nevada State Museum gift shop, and the event doors open at 4 p.m. on Saturday, August 5. Didn't think you'd sing an '80s ballad and solve a murder in the same weekend, did you?
Finally, I figured that while you roll through the last full month of summer, you might as well rock a bit too. Brewery Arts Center's free concert showcase this Saturday night (August 5) will feature local funk-rockers Whatitdo opening for energetic Los Angeles band Thee Commons. The combination is wild, and you'll see why if you check it out. Look forward to dancing along to soul, funk, psychedelia and punk, often all at once; the sounds of these bands will match the heat of the night.
Photo: Facebook, Thee Commons
See how easy it is to let loose and have an unexpectedly amazing time, even in the time of year that can seem to drag on? There's plenty more where that came from! Check out the rest of the weekend's events on our Daytime, Nightlife and Community pages.