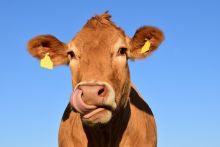 With springtime finally here, it's a lot more fun to take notice of the ranch animals than it is during the dreary cold winter months. When the snow is on the ground, I'm always reminded of that classic old Charlie Russell artwork, "Waiting for a Chinook," in which the lone survivor of some 5,000 head of cattle stands gaunt as the wolves circle 'round. (I think one reason Russell was such a successful artist is that he portrayed the tough times right along with the good times rather than purely romanticizing life in the American West.) So, anyway, here's a quick guide to some of the bovine critters you might be able to spot out and about the Carson area this time of year. Photo at left: Pixabay, Ulrke Leone.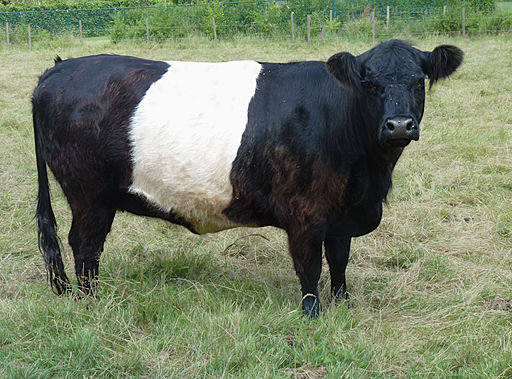 One of my favorites is the "oreo" herd that can often be seen as you drive through the Washoe Valley between Carson City and Reno. It turns out that the more correct (and more dignified) name for this breed of cattle is Belted Galloway, the belt being the white band around their mid-section between the black front and rear. According to the Western Belted Galloway Association, this breed is thought to be related to the cattle brought to Britain by the Vikings, and they come from the hill country of southwest Scotland. Photo at right: Wikimedia Commons, Jamain.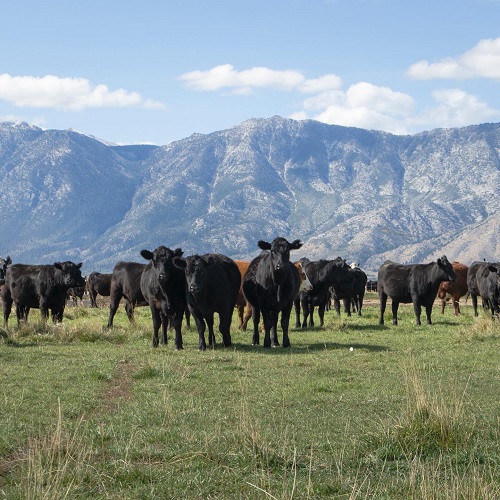 If you happen to be passing by the Bently Ranch (and it's not like it's hard to miss, they run some 50,000 acres locally stretching across both Nevada and California), you might see some other cattle that aren't quite so flashy as the Belted Galloways but that have a proud heritage nonetheless. These herds are largely a selection of brown and black animals with a splash of white on a face or two, and they are a mix of Angus, Hereford and Charolais. The Bently Ranch notes that this mix of breeds results in an animal that is well-adapted to the high desert and that thrives in the local environment. Photo at left: Facebook, Bently Ranch.
Out on Genoa Lane, you're likely to notice a herd of big ol' red cattle with white faces and socks. The folks at the Genoa Livestock ranch are pretty big fans of Herefords, and they tout the breed's pleasant disposition and hardy constitution. If you're looking to get into the cattle business (or maybe you just want your kid to have the biggest pet in the neighborhood), they have an annual Bull & Female sale out at the ranch in Minden every September.
Herefords were also the breed of choice for John Ascuaga (yes, that John Ascuaga, as in Ascuaga's Nugget Hotel and Casino up in Sparks) out on his Jacks Valley Ranch up in the foothills just south of Carson City. As if his life as a legendary figure in the gaming history of Northern Nevada weren't enough, Ascuaga also played a significant role in the area's cattle industry. In fact, in 2007 he was honored as a Lifetime Cattleman by the Western States Hereford Association. The Jacks Valley Ranch is one of three that he operated, and it's said that at one time he ran some 1,700 head of Herefords.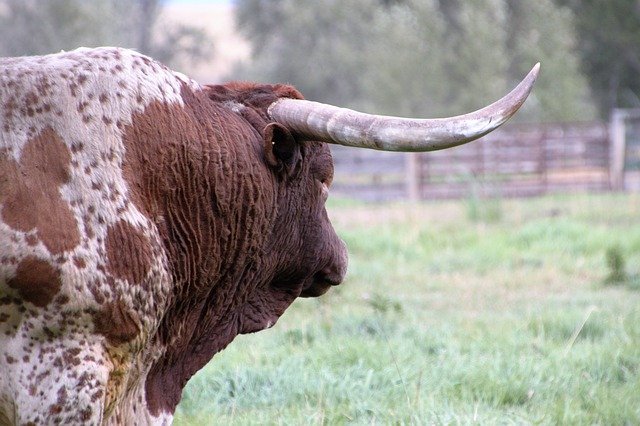 I'm going to wrap up with a breed that has always been an icon of the West, maybe not so much around here but certainly in the mind of popular culture, and that's the Texas Longhorn. These animals have quite a history and are said to be descended from cattle introduced into the Americas by Columbus and the Spanish colonists. I've also seen discussion that the current iteration owes some of its physical characteristics to an infusion of English Longhorn Hereford into its heritage. And I am doggoned certain that I once saw a Longhorn out in a pasture someplace in Carson Valley out near the Gardnerville Ranchos, maybe on Dressler Lane or Kimmerling Road, but of course I can't find it now that I'm writing about looking for it. However, if you have a burning desire to look at some Longhorns and you are willing to take a road trip, you can head east to Spring Creek, just south of my old stomping grounds in Elko, and check out the SC Longhorns ranch. ("SC" as in "Spring Creek." If you hop onto Interstate 80, you should be able to make the trip in less than five hours. Photo at right: Pixabay, sledgirlmt.
So there you go. If you happen to see my local Longhorn while you're driving around – or any other fun and interesting bovines that you want to share, for that matter – be sure to let us know in the comment section below. But just remember when you're on your cattle-spotting adventures … no cow tipping!