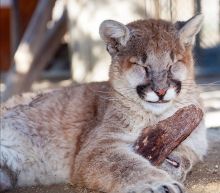 As a kid learning about my home state, one of the first things I remember hearing about was Nevada's wildlife. As an animal lover myself, I became obsessed. It amazed me that just up the mountains near Lake Tahoe lived bears, while mountain lions called the desert hills home. The rivers are abundant with rainbow trout, and on special occasions you can find a bald eagle perched atop a Carson City tree. There's the proud desert bighorn sheep as our state animal, and then there's the mighty Ichthyosaur, the dinosaur that once roamed the prehistorically underwater Nevada, as our state fossil.
It's true that in almost any place you go, you'll find a rich and unique wildlife community. But as with many features of Carson City and the surrounding area, you might be surprised at just how rich and diverse it can be. And the best part? You can see some of the most amazing animals and wildlife-filled places over just a weekend!
And for when you get back home to your own furry friend, I'll show you around Carson City's many excellent dog parks. Take this weekend to check the following places out, all just a mini trip away from the capital. I think, after meeting a few of Northern Nevada's resident animals, you might just become obsessed too.
Did you know Northern Nevada had a zoo? Even many locals are surprised upon hearing this information, but sure enough, North Reno is home to the Sierra Safari Zoo. It isn't huge, but it houses more than 200 animals of some amazing species from around the world you could come and see.
At Sierra Safari you'll find animals like lemurs, camels, zebras, leopards, six different types of monkeys and big cats like lions and tigers. Granted, these are species you'd never find in the wild in Nevada, but the zoo is run by animal-lovers who have created a home for these incredible creatures right here in Northern Nevada. Plus the zoo has educational programs and learning centers for kids that make a visit to the zoo perfect for the whole family. The zoo is open every day of the week.
Photo: Sierra Safari Zoo Facebook
For something a bit closer to native Nevadan wildlife, head a bit farther north, beyond Reno and into North Valleys. Animal Ark sits on almost 40 acres of land and is a nonprofit, volunteer-run wildlife sanctuary. Recreating the natural habitat of many of its residents, Animal Ark is home to a tiger named Lily, a black bear named Gracie, a rescued mountain lion named Milo, a red-tailed hawk named Zechariah and the charming, extroverted desert tortoise Mr. Peabody, among many others.
Animal Ark has its doors open for you to check out the area and meet some of its furry personalities up close, all making for one of the most singularly exciting animal experiences in Northern Nevada. Make the trip this Saturday afternoon and stay for the ark's All American Cheetah Dash! At 6:30 p.m., you'll be able to witness one of the fastest animals in the world race at top speed. When else would you ever be able to see something like this in our area?
Photo: Animal Ark Facebook
Perhaps you want to experience the natural serenity of Northern Nevada on your own terms. Head south to Carson Valley, full of natural, local wildlife in itself. Our whole area has been called a birdwatcher's utopia in the past, and Carson Valley might just be the hottest spot. According to the Lahontan Audubon Society, Jack's Valley Road (on the west side of the valley, toward Genoa) is the place to catch a bald eagle or golden eagle perched atop a valley tree.
The marshlands to the east of Genoa are great summertime spots to find tricolored blackbirds, and green heron and black phoebe are known to roam the wetlands as well. Pull off to the side of the road, pull out your camera (or iPhone) with a good zoom and see how many Nevada summer birds you can find. Or, perhaps, just enjoy the summery songs! For a guided tour, check out the valley's Birding Under Nevada Skies, an amazing way to see and experience the local species with an expert's knowledge on hand.
Photo: Lahontan Audubon Society Facebook
While I don't suggest trying to find the wild bears of the Sierra Nevada Mountains, or looking for wild mountain lions in the pines to the east yourself, another great way of enjoying a fun day outside with the animals of Nevada is by spending it with your own!
My own dog, a corgi, loses his mind whenever we visit one of Carson City's many dog parks. He loves it! Bring your puppy (or your cat, or really any appropriate animal) to Fuji Park in South Carson City. The place is huge, allowing for a comfortably wide-open area to throw a Frisbee or a ball. Perfect for the mid-afternoon, there are dozens of trees making shady spots to relax as well.
In a safe, residential neighborhood is Sonoma Park, another big dog park with a trail along its perimeter and a big, open field for unobstructed fun. Then, on the east side of town, is Riverview Park near the Carson River. Walk or jog your dog along the park's trails and enjoy a private, shady and serene natural area with a great view of the flowing Carson River (as the name does suggest) and plenty of spots to sit and share a picnic with your furry friend. After a weekend of visiting the many local and non-local, exotic animals that call Northern Nevada home, unwinding with your favorite local animal might be just what the doctor ordered.
There's plenty more where these came from as well — as you know, the Carson City area is all about the outdoor experience, complete with horseback riding, fish hatcheries and much, much more. Get started visiting these, then look here to continue your wildlife adventures!
 
And for other weekend events this weekend, be sure to check out our Daytime, Nightlife and Community pages.