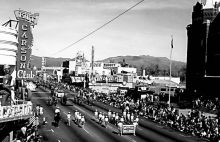 Every time the Las Vegas rock band The Killers plays a show in its home state, they make a point to burn through a rendition of "Home Means Nevada." It's an internationally famous band, reminding Nevadans that its members, too, learned those same verses in second grade.
I've had friends from different parts of the country, and most of them can't remember their home state's birthday, much less recite a state song. But in Nevada, these things are such a definitive part of our character. No other state celebrates its founding quite the same way.
Part of what makes October so huge here is the buildup to Halloween Like having your birthday fall on the same day as Christmas, it makes you anticipate the day so much more. With the holiday season just around the corner, you have ghost tours and Halloween decorations, changing leaves and sweater weather and of course, the last Saturday of the month – Nevada Day.
Photo: Everything Elko
In the grand tradition of celebrating our state, no event is bigger than Carson City's Nevada Day Parade.This year it's happening on Saturday, October 28. Year after year the themed parade gets bigger and bigger, featuring visits from our governor, local legends and many service people.
It begins with a roar through the air as military jets fly overhead. Then, marching bands from every school in the area carry a tune and a beat down Carson Street, past the Capitol Building, downtown's shops and restaurants and crowds of waving, excited people. Towering floats roll by with local heroes, friends and family members on board smiling and waving back. Firefighters and police march through in full uniform. The parade never ceases to amaze.
Photo: You Lived in Carson City Facebook
And while you may grab a cup of hot cocoa or coffee from Comma Coffee and snag your favorite viewing spot before the parade starts at 10 a.m., I'm here to remind you of all the other ways there are to celebrate Nevada's 153rd year of statehood.
Early risers have a chance to take part in the Nevada Day Classic at 8 a.m. Since 1989, the Tahoe Mountain Millers have sponsored this 8K run and 2-mile run/walk through the downtown streets at sunrise. The race might wake you up and get you going for the day, but there's still nothing more beautiful than taking a light jog or walk through this part of town before the crowds start to show up. The classic includes a raffle as well with dozens of winners, and $35 registration includes a packet (pick up at the Carson Mall the day before), breakfast and a t-shirt!
Starting at 11 a.m., the Brewery Arts Center is getting down with its EDM Halloween Party. All afternoon and into the night, the top local house and techno DJs are spinning both outside and in the black box theater, making for a completely immersive experience you can join any time throughout the day. Drinks and a bar will be available through the BAC, and don't forget to dress up.
Photo: Pony Express Carson City Facebook
This year's theme is Arts & Entertainment, which celebrates the music, movies and full-blooded artistic culture of our state. Starting at noon at the MAC facility on Russell Way, the annual La Ka Lel Be Powwow will bring the brightest of Nevada's own Native American artistic culture to the forefront. Each year the Powwow is a massive event filled with splashes of color, dancing, traditional music and an air of pure celebration. Join in on the crafts, experience the homemade cuisine and witness costume contests, lip sync battles, a horseshoe tournament and much more. It'll be a party!
Photo: Adriana Wahwasuck Facebook
Back downtown as soon as the parade ends, head to McFadden Plaza for the famous Nevada Day Beard Contest. All year long locals (mainly older men, naturally) grow their facial hair just for this day, where they twist and contort their whiskers and moustaches into the wildest and craziest looks – because only the wildest and craziest win this competition. Be there at 2 p.m. to see and vote for the best facial hair in Nevada. Which, surely, must mean the best facial hair in the country.
There's so much more to do, but even if your idea of a perfect Nevada Day is watching the parade and relaxing with a beer and a burger at the Fox Pub, you can't beat the excitement and camaraderie that fellow Nevadans feel this day. I've come to realize that it's something most other places don't quite have, something completely unique to this state. Nevada Day captures that magic and bottles it year after year.
Of all the days to spend in Carson City with family, friends and fellow Nevadans, Nevada Day might just be the best.
Photo: You Lived In Carson City Facebook
For all other events happening this weekend, visit our Daytime, Nightlife and Community pages.