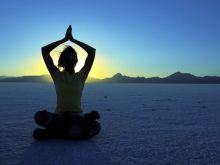 Nevada's capital likes to slow things down in the middle of winter. When downtown patios are packed up, restaurants and bars crank the heat or light bonfires to keep visitors warm while everyone else spends the evenings and weekends inside, curled up with a book or watching TV in the warmth of home.
Then, when the city thaws, everyone comes out of hibernation, suddenly surprised that the temperature has risen so much seemingly overnight (that's Northern Nevada weather for you). As quickly as summer turned to fall turned to winter last year, that time will be here before you know it, as crazy as it sounds.
Maybe you want to be productive during these winter months. Maybe you made it a resolution or maybe it's just a new goal you've set for yourself. If you want to remain active but perhaps hitting the gym doesn't sound as appealing as cuddling up with blankets and staying in (it never really does), here's an idea for getting out that can make working out a fun, social activity.
Yoga and Pilates are both ubiquitous now – which is great because you've got so many options. There are plenty of spots in Carson City alone, but here are a few that are just perfect for kicking that hibernation and getting out this January.
Yoga Sol is a fantastic studio located above Jimmy G's and The Basil right in downtown Carson City. In a calm, open environment, Yoga Sol's instructors incorporate meditation and music into the classes, providing the full yoga experience. These teachers are experts with a full range of classes, making it a great place to go if you're just getting into yoga and an even better place to go if you already love yoga and want to become a master yourself. Intro to Yoga, Yin Yoga (joint stretching and mobility), quick Lunchtime Yoga and Friday Night Meditation are just a few of your options.
For something more active and intensive, there's Body by Pilates. This is where you go for strength building through the century-old practice. Led by passionate instructors, you can give Pilates a taste with a quick drop-in Reformer class, where you build strength, flexibility and balance while you learn different breathing techniques. Or there's the weight-shedding Jump Board class, in which you utilize the springy board in an energetic and fun workout.
Photo: Body By Pilates Facebook
For something different, try Hot Spot Yoga inside Fitness for Life gym. Hot Spot offers plenty of traditional yoga classes as well as classes with varying levels of heat. That's right – the temperature of the room goes up for a cathartic yoga session. Try a class with mild or medium levels of heat or challenge yourself to a hot yoga session with the room completely humidified. Who knows? Once you try it, you might never go back!
Pick whichever one suits you or try it all – you might fall in love with yoga and meditation like so many others here in Carson City. Or you might find that Pilates is your new, preferred method of fitness. If you feel exhausted after giving it a shot, no worries either. Unwind and relax a different way. Check into downtown Carson City's SpecialTeas Tea Shop for a hot cup of loose-leaf jasmine tea and a fresh baked pastry – no stretching or humidified rooms required.
What's also great about yoga and Pilates is the sense of community in the activities. So get out there, give it a try and meet more of Carson City's citizens in the process!
For all the local events this week, visit our Daytime, Nightlife and Community events pages.