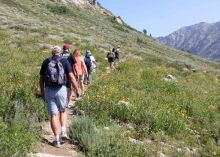 The feeling of fall in Northern Nevada is in full effect. Halloween is just around the corner. Pumpkins placed in front of historic Carson City houses, a colorful medley of leaves covers the town and the smells of warm homemade meals drifts from home to home. There's so much to look forward to.
As the nights get colder, you'll want to stay in and watch movies with a mug of hot cocoa and a thick blanket. The days of outdoor adventures might seem like a distant memory as you look toward family gatherings and hearty dinners.
But then again, there's always all of winter to do that. Because, like I've stated before, there's always something going on in the area, and this weekend is no exception. Check out some of the fun Carson City has in store for the last weekend of September. Hey, it might just be enough to lure you outside for the last few rays of warm 2017 sunshine.
First up, Bella Fiore has teamed up with the Let 'em Run Foundation for an exclusive fundraiser this Friday, September 29. Featured will be renowned country artist Lacy J. Dalton with her Dalton Gang, providing some of the best music Downtown Carson City has seen for Bella's wine tasting. The event benefits the horses and wildlife of our area – and one of the undoubtedly coolest things about living in Northern Nevada is experiencing the wild horses in their natural habitat. Come by, have some wine, enjoy some music and support an amazing cause.
Photo: Lucy Dalton Facebook
Then, perhaps after you've filled up on wine, head to the Carson Nugget and check out a comedian on her own blazing tour: Kat Simmons is returning to the Carson Comedy Club. She's been all over TV and aside from teaching improv classes in Carson Valley for years, she won the eWomen's talent contest in 2009. So, Friday, September 29, make your way down to the basement of the Carson Nugget and laugh your head off with Kat Simmons for a night of comedy you'll love and won't soon forget.
On Saturday, St. John's Presbyterian Church is hosting an open revue of the Frank Sinatra songbook. While not unfamiliar to Nevada, Sinatra's classic music is showcased here by Rick Cornell, Rebecca Schembi and Carol House in "That's Life!" You'll hear the best of Old Blue Eyes, all in the unique style of these excellent local musicians. What more could you want? Come by Saturday, September 30, at 7 p.m. and leave with a song in your heart.
Photo: Sinatragram Facebook
And as far as outdoor adventures go, don't forget that Saturday is also Nevada's Public Lands Day, a holiday meant for volunteering for the welfare of our state's parks and public lands! If you can't volunteer to clean up your local state parks, spend the day (which is supposed to be sunny and beautiful) out exploring our public lands. The state, amazingly, is full of wide open lands. From mountain peaks to desert dunes, it is also our responsibility to keep these places safe and clean for future generations. Take to the parks on Saturday and give back to Nevada's open parks.
Photo: Public Lands Council Facebook
I know that cup of hot tea and slice of pumpkin pie is calling. But before disappearing into winter hibernation, know that Northern Nevada still has much to enjoy before piles of snow appear on our city streets. Make sure you take advantage of this Carson City fun before it becomes too late!
And, for other events, be sure to visit our Daytime, Nightlife and Community pages.