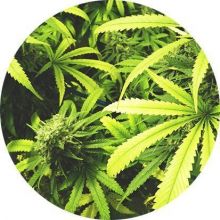 OK — hear me out.
Marijuana, weed, pot, whatever you want to call it, has recently become more or less legal in the state of Nevada. The fine print and details of the legislation are still being worked out, but cannabis is already beginning to be embraced by our state.
I understand that everyone has a different relationship with marijuana. You may be against it, you may have a collection of artful glass pipes at home or there may have been those few months in college when you just dove right into it.
No matter what, don't worry; the nice thing about Carson City on the weekend of marijuana's own unofficial holiday — 4/20 — is that there are a few different ways to enjoy the fun of Nevada's legalization without, you know, actually using the product.
This Saturday is also Earth Day, a day for enjoying and helping preserve, in this case, the natural beauty of our area. The sun will be out, spring flowers are in bloom, and this weekend I invite you to head outside and do what you can to keep Carson City beautiful and enjoy the great outdoors. But also, on this Earth Day, I invite you to go green in more ways than one.
Thursday, April 20 is the non-coincidental grand opening of Carson City's newest shopping experience: The Glass Shack. On N. Carson Street in the Frontier Plaza, The Glass Shack features a pristine and modern collection of glassware like pipes, bongs, accessories and more. The glass pieces are gorgeous; you could stare at the swirling neon colors and twisting shapes for quite a while, no matter your current mind state. And there's a huge selection — you'll want to take your time deciding if you're in the market for a new piece of glassware. There's also some marijuana-centric apparel sold here, and there will be a 20% off sale through Saturday to celebrate the store's opening.
So you have your pipe, and as unique as it may be as a tasteful piece of home décor, you may want to actually use it for practical purposes. Unfortunately, it may still be a few months before recreational marijuana laws make it as easy as walking into a brick-and-mortar store to purchase a joint. However, if you have a medical marijuana card, Carson City has two locations to use it.
Sierra Wellness Connection on Highway 50 has an impressive array of scientifically engineered strains of pot, all grown and cured locally. There are different concentrates with different effects, and a simple consultation with one of the experts will result in you getting the specific type of effect you want or need. On the opposite end of town is Rise, a friendly dispensary with a menu chock-full of flowers, edibles, cartridges and more with your desired effect as well. And they deliver!
At a certain point in this journey, you might be getting hungry. Fortunately, Carson City's eclectic food style has given way to a new and interesting eatery in the McFadden Plaza downtown. Stop by the newly opened Scoups Ice Cream and Soup Bar. It's quite a combination, but it all makes sense once you try one of the family-owned restaurant's bowls of homemade soup followed by a refreshingly cold scoop of ice cream. With the slightly warmer weather this weekend, I can't think of a more perfect culinary balance, and you'll be coming back for more all summer.
It makes me happy to report that one of the nicest weekends of 2017 so far is also Earth Day weekend. Take the late morning or afternoon on Saturday to experience some of the stunning scenery of Northern Nevada. I recommend hiking part of the Tahoe Rim Trail, where you might literally be living the high life with unforgettable views of the Sierras and Lake Tahoe. Or make the short drive south to Carson Valley and schedule a birding tour with Birding Under Nevada Skies, giving you a chance to appreciate the fleeting magnificence of the area's migratory birds as you hike the wide-open valley floors, marshlands and rolling foothills.
And once you return to Carson City, unwind with this weekend's special event: an evening of stand-up comedy at the Brewery Arts Center. The theme this time? You guessed it — marijuana, weed, pot, whatever you want to call it. Gather some friends for The Recreational Show, a showcase of Northern Nevada comedians hosted by frequent Pioneer Underground emcee Nick Josten. He and five other comedians and story-tellers will spend the evening recounting their own hilarious encounters with marijuana for your amusement, making for an excellent and fitting way to relax after a busy, fun-filled weekend. The Recreational Show is at the BAC Performance Hall at 8 p.m., and tickets cost $5 at the door.
See? There are a bunch of different ways to embrace cannabis in Carson City this weekend, no matter your readiness to turn your life into a Cheech & Chong movie. Just head outside, experience some of Carson City's newest additions and have a great and memorable Earth Day while you're at it.
And don't forget to check out our Daytime, Nightlife and Community pages for many more things to do this week.