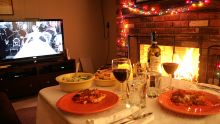 It's that time of year again. It seems like year after year in this stretch of February into March, Northern Nevada's infamous weather does the same thing. We get that tease of warmer spring weather that lasts for about a blink of an eye before another moving storm plunges us into weeks of icy mornings and swirling snow. It's like the groundhog forgot he saw his shadow then suddenly remembered.
As much as I encourage you to go out and experience the excitement the city has to offer each weekend, I understand more than anyone how some winter Saturdays are simply best spent indoors in the warmth of your own home. If you're a fan of those weekends, this blog is for you.
For a weekend in you have to have the essentials: warm blankets, a great movie or show to binge on and, of course, some incredible food. So if you make only one trip out of the house, make it to one of these few spots in Carson City: the best takeout for the night in.
First off, when people think of take out, they're usually thinking of Chinese. One of my favorite spots is Panda Kitchen, hiding just off Highway 50 on the far end of a strip mall. This locally owned Chinese restaurant has been whipping up fantastic classics for years and its takeout is reliably quick and delicious. Call ahead for a couple of orders of pork fried rice, some shareable Kung Pao chicken and plenty of egg rolls, then pick up with some sweet & sour and hot sauce.
Even upscale Thai food makes for a perfect to-go meal. I know you love The Basil in Downtown Carson City, but every one of these meals is just as delicious when you bring it home. Opt for one of the noodle dishes like Pad Thai with chicken or Spicy Basil noodles fried with veggies and egg. Or, better yet, order a bunch of appetizers to make a spread at home – think spring rolls, chicken wings with glass noodles, charbroiled chicken satay and curry potato puffs.
Or the perfect complement to movie night is pizza. For something great and new, head to Flat Earth Pizza on Highway 50. Pick up one of its brick oven-baked pies like the meat lover's Goodfellas Pizza (something hearty to warm you up) or something even more unique like the Mediterranean with chicken, spinach, artichoke, garlic, feta and a sauce of pumpkin seed basil pesto. Then be sure to order plenty of fresh Tuscan or Caesar salad to split for a side. It's all quick, tasty and perfect to eat at home.
Now, it may not cross your mind as a first choice for great takeout food, but I assure you that a bowl of hot soup from Scoups to go might be your new favorite meal for an easy, relaxing night in. It's as simple as stopping in and ordering up something like the spring vegetable soup (for warm weather wishful thinking, perhaps) or roasted corn chowder for something hot, filling and flavorful. There are even some menu additions like chicken sandwiches and hot pulled pork sliders. Remember that Scoups is also the place to get dessert, with so many flavors of ice cream –you know, just in case the freezing temperatures outside aren't dissuading you from a cold treat after dinner. At least you won't have to worry about it melting on the drive home!
Photo: Scoups, Facebook
Finally, I'm sure you want to elevate your at-home dining experience with some delicious craft beer from Shoe Tree brewery, but you still want to stay home. Easy enough – stop by Shoe Tree and fill up (or purchase and fill) a 64 oz. growler of your favorite brew. That's four pints – enough to share at home or keep yourself warm throughout the night!
So take that signature Carson City dining experience home with you while the town freezes over, and don't let weather stop you from having amazing food and drinks this weekend. 
For all other events, visit our Daytime, Nightlife and Community pages.