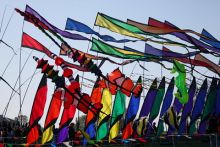 It's a strange summer, no doubt about that. Events and celebrations that have taken place annually since, well, since forever, have been cancelled, postponed or put on hold through next year. And it's hard to tell from one week to the next what gathering is going to take place or be kicked out from under us. But for now, here's a sampling of what is currently on the books for the Carson area. Photo at left: flickr, Mr.TinDC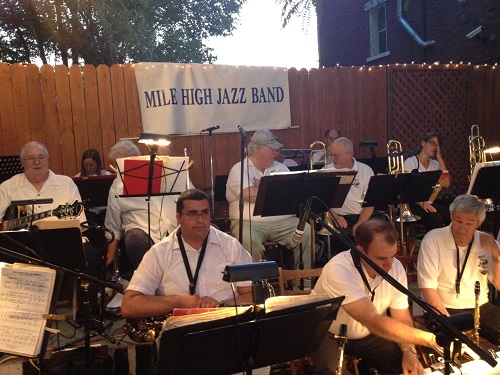 As of this writing, the Jazz & Beyond 2020 Music and Art Festival is rescheduling some of the musical aspects of the event but plans to continue with the Open Studios Tour slated for August 22 and 23. Some two dozen artists across 10 studios will be featured. Look for the brochures, including a map to the studios, to be available in different locations around town. T-shirts, posters and other promotional materials (including Jazz & Beyond face masks!) will be available for purchase. With the Art side of the Music and Art Festival covered, what's on tap for the Music component? David Bugli says, "We are looking to provide elements of Jazz & Beyond as a series of events and virtual presentations later in the year and into next year, as conditions permit. We will present events safely, some in new formats, for performers and artists." Photo at right: Facebook, Mile High Jazz Band.
For even more art in your life, the Capital City Arts Initiative presents the H20 2020 exhibition at the CCAI Courthouse Gallery through September 24. As you might imagine, the theme for this event is that of water. The organization's Ink, Paper, Print exhibition in the Sierra Room continues through to August 21, with a COVID-compliant closing reception planned for 5 to 6:30 p.m. in the Roop Street parking lot. Photo at left: Facebook, Capital City Arts Initiative.
If you are one of the multitude who is incredibly bummed that Hot August Nights 2020 is one of the casualties of the current pandemic restrictions, you might want to check out the Art Gallery at Prism in Minden. From August 4 through August 30, they are featuring the exhibition titled Hot, Hot, Hot August Summer Car & Beach Art. They call it "…'car-part art,' Red-Hats on the beach, neon lights and amazing sunset images." The gallery is located right smack-dab where Buckeye Road hits U.S. Highway 395.
While you're in Carson Valley, you can also take in a concert in the park on Friday, August 7 (Jelly Bread) or Friday, August 28 (Mumbo Gumbo), or a movie in the park on Friday, August 14 (Doolittle).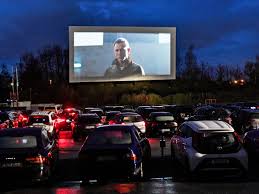 But wait, there's more! More movies, that is. August continues the free drive-in movies at the Brewery Arts Center Outdoor Amphitheater. The Disney/Pixar animated Coco is on tap for August 5 and 6, and Back to the Future 2 plays on August 12 and 13. If you are more of a Turner-Classic-Movies kind of person, each month the BAC plays a classic from the ye olde days of Hollywood in the performance hall. The August screening is 1955's Kiss Me Deadly, and the line-up for the rest of the year includes Hammerstein's Carmen Jones, Susan Slept Here with Debbie Reynolds, Hitchcock's Shadow of a Doubt and even 1944's Gaslight. Photo at right: Facebook, Brewery Arts Center.
Art, music and movies, all right here at home in the Carson area. Get out there and have a good August.