February is kind of the teaser for spring, and then March keeps stringing us along until, all of a sudden, it's nice weather and the flowers are blooming and then a few days later the heat gets oppressive and we're thinking fondly of the good old days of winter. Here in the Carson area, February and March are also the time when there are some new art exhibits on display, and what better way to pass the time before spring really takes hold than to take in a little art? Photo at left: Pixabay.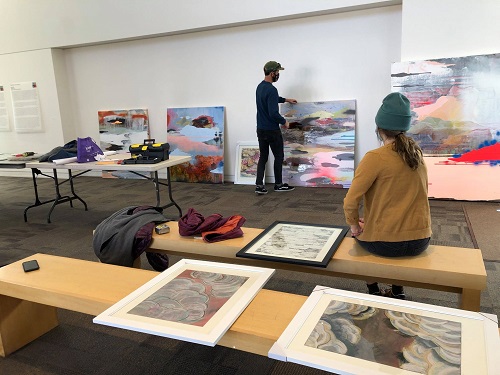 And I can't think of a better exhibition to start out with at this time of year than one that is called Entitled to the Sun. This one is on display at the Capital City Arts Initiative Courthouse Gallery (885 E. Musser Street in Carson City) and will be up through May 26. The artist is Rachel Stiff, an instructor at Western Nevada College who paints "abstractions inspired by western landscapes." And she's seen a lot of the West from which to draw her inspiration; she holds a BFA from the University of Montana in Missoula, an MFA from the University of Arizona in Tucson and has lived and worked in both Los Angeles and Las Vegas. Photo at right: Facebook, Capital City Arts Initiative.
Also on tap beginning in February is the Winter Show at the Nevada Artists Association Gallery at 499 W. King Street in Carson City. This is one of the four shows during the year open to non-members of the association, so look for a nice wide range of pieces. This show is up through March 26, and the gallery is open to the public Tuesday through Sunday from noon to 4 p.m.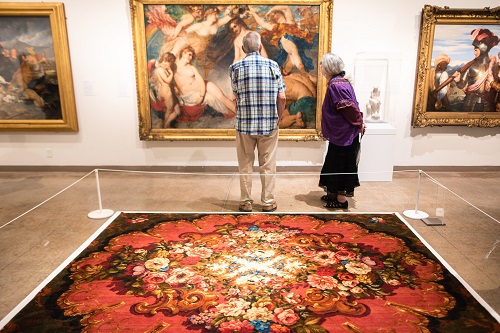 Maybe you've been keeping an eye on the Nevada Museum of Art in Reno? Maybe you planned to go in for The Art of Jean LaMarr to check out works by the Native artist based out of Susanville, California? Well, sorry to be the bearer of bad news, but you'll just need to hold your horses for a bit. That exhibition was originally slated to begin this month but has been moved to the first half of next year, January to July of 2021. But if you can just make it a couple more weeks, you can stop in and see Victorian Radicals: From the Pre-Raphaelites to the Arts & Crafts Movement. It's a pretty big deal, with more than 145 pieces (quite of few of which have never been shown outside the United Kingdom before now). It runs from March 7 to May 30, and the Nevada Museum of Art is just the second – and final – venue on the West Coast to host the exhibition. Photo at left: Facebook, American Federation of Arts.
Although the Capital City Arts Initiative exhibition Photo Finished 2021 didn't open in February, it does close on March 25, so if you haven't had a chance to take it in yet, now might be a good time. This exhibition showcases the work of students in the Carson High School Advanced Photography program, and CCAI Executive Director Sharon Rosse says, "CCAI is delighted to again present work by Ms. Ferrin's accomplished students. Their professional level of work presents accomplished and diverse photographic achievements." The venue is closed to the public for health and safety reasons, so the exhibition is posted online. 
And for something a little different, you may want to check out the online exhibition of "Performing in the Dark: The Sudden Disappearance of Live Entertainment." Open as of February 5, this presentation documents the impact of the pandemic on our sister city to the south, Las Vegas. It's touted as a photojournalism multi-media exhibition that shows the effects of a unilateral shutdown in an economic environment that depends on live entertainment. "Through the lenses of Nevada's visual journalists, this exhibition spotlights local performers who have found themselves stranded from the stage and forced to find new ways to get by amid the unrelenting pandemic." Yes, it is a piece that is exclusively Southern Nevada-centric, but some of the same issues they face there during the pandemic have had an impact up here as well. And if this sort of thing is interesting to you, you can also register for a Curator's Talk on the presentation, taking place on March 5. Photo at right: Pixabay, Duke Ng.